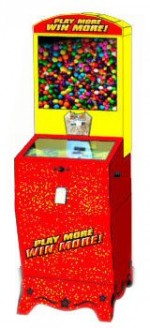 We've taken an all time classic, combined it with bulk vending to create an interactive and entertaining way to vend gumballs, jawbreakers, and super bouncy balls.  The Pinball Vending Machine. On sale this month at candymachines.com.
A few features of this machine include:
-Special NW coin mechanism allowing pennies, nickels, and dimes to drop through and not vend product
-All steel construction
-Plexi glass cover and canister
-All mechanical – no batteries or electricity required
-Your choice of playboard design
This machine was heavily constructed to withstand all kinds of wear and tear.  It will make a great addition to any kind of entertainment room.  Whether it be a personal family or game room, or a place that gets a lot of traffic such as a bowling alley, theater, or arcade.  Anywhere you decide to set up this machine, it'll create a lot of commotion; in return will make you quite a bit of extra change.
Gumballs, jawbreakers, and bouncy balls are sold separately, so don't forget to purchase those here as well!